Bag delivery service
Bypass baggage claim
Our service will deliver your bags right to you
Bag delivery makes your travel quick and convenient. Just sign up for the delivery service before your next trip and let the experts take care of your bags for you.*
Delivery service is available within 100 miles of the airport and you don't need to be available to sign for your bags.
Sign up for bag delivery service Opens another site in a new window that may not meet accessibility guidelines
Here's how it works:
Before your flight: Sign up for bag delivery service at least 2 hours before your flight is scheduled to depart.
At the airport: Check your bags at the ticket counter. A special indicator will be printed on your bag tags so a luxury delivery representative can identify your bags.
After you land: Bypass baggage claim and head directly to your final destination. Your bags will arrive at your destination within 4 to 6 hours.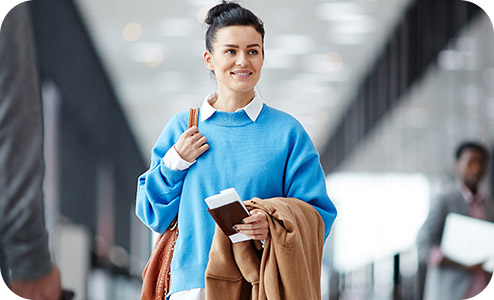 *Bag delivery service is provided by BAGS VIP Luggage Delivery. American Airlines is not responsible for products and services offered by other companies
Pricing and availability
Bag delivery charges are in addition to the applicable checked bag charges. Charges are for delivery within 40 miles of the arrival airport. (There's an additional $1 per mile charge for delivery destinations that are over 40 miles from the airport.)
1 bag = $39.95
2 bags = $39.95
3 bags = $49.95
4 or more bags = $49.95 plus $10 per bag starting with the 4th bag
Delivery is available for flights between all U.S. domestic locations and from these international cities:
Aruba, Aruba (AUA)
Calgary, Canada (YYC)
Dublin, Ireland (DUB)
Freeport, Bahamas (FPO)
Montreal, Canada (YUL)
Nassau, Bahamas (NAS)
Ottawa, Canada (YOW)
Toronto, Canada (YYZ)
Vancouver, Canada (YVR)